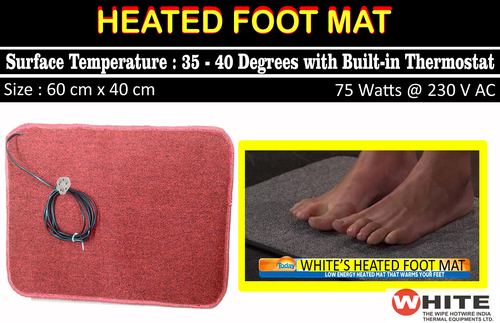 Heated Foot Mat
Product Description
HEATED FOOT MATS

When the floor is cold in winter - whether its your living room or your study room, our heated floor mat is optimal for your well-being. Warmth generated from our foot mats will help you unwind and relax, without leaving comforts of your home.

Heat has been long associated with comfort and relaxation. Simply put in under your office table or enjoy the gentle warmth while sitting on your cozy chair.
The Heated Foot Mat is composed of soft cloth material that is best used to warm feet.Operating at merely 75 watts, the surface temperature is able to reach up to 40oC and comes with built-in thermostat control.

Easy to use
100 % Safe & Energy Efficient
Connects to any 230 V home Socket
Portable : When not in use, simply roll it or keep it aside as it is
Comes with One year Warranty.
Warranty across India.