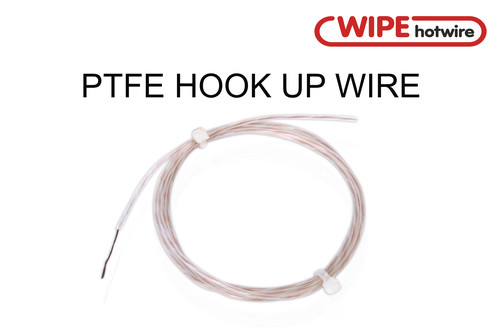 PTFE / FEP INSULATED HOOK-UP WIRE
Product Description
PTFE INSULATED HOOKUP WIRES
WIPE HOTWIRE INDIA THERMAL EQUIPMENTS makes all types of PTFE insulated equipment Wires & multi-core cables. WHITE equipment wires meets the requirements of Indian Defence Standards like JSS-51034-92 and other equivalent standards like MIL-W-16878 & BS 3G210. WHITE has got complete In-house Test facilities for testing these cables as per relevant standards. PTFE Insulated Multi-core cables, conforms to the specifications, JSS 51038. MIL-DTL-27500, BS 3G210.
PTFE CABLE ADVANTAGES
The Products have number of advantages, few of them are :

Excellent thermal stability suitable for use from -65°C To +200°C for silver plated and +260 °C for Nickel plated wires.
Total Flame Resistance ( Flame proof )
Suitable for very wide frequency range (DC to above 10000 MHZ).
Inert to practically all Chemicals even at elevated temperatures.
Smaller in size, more flexible, lighter in weight and higher reliability.
Lowest Dielectric constant (2.1). Dissipation factor (below .0003).
Excellent flex life and totally unaffected by outdoor exposure to unlimited period.
SINGLE CORE CABLES
Type : Single Core
Conductor : Single/Multi strands Annealed Copper, NPC/SPC
Insulation : PTFE Spirally Wrapped & Fused
Voltage Grade : 250V/ 600V/ 1000V / as per customer requirement.
Temperature : -65 oC To 200 oC (Silver), -65 oC To 260 oC (Nickle Plated)
Standard Applicable : JSS 51034-92 & MIL-W-16878, BS3G210
Core Color : All single solid color / Bi Colors As per customer requirement.
Size : As per customer requirement