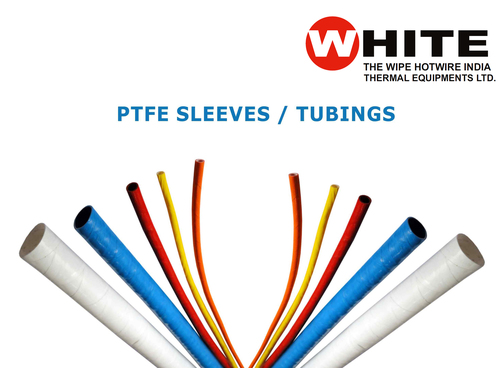 PTFE Sleeve
Product Description
PTFE SLEEVES ADVANTAGES
High Performance from -200 degree Celsius to 260 degree Celsius ( Peak 300 degree Celsius )
Unaffected at soldering temperatures, autoclavable.
Suitable for High-Density wiring.
Smooth internals allow closer fit, biocompatible
Superior Tape-Wrapping-Sintering (TWS) method provides good mechanical stability, High
burst pressure and long flex life.
High Dielectric Strength
Resistant to UV Radiation
Fire non-propagating
Inert to almost all chemicals, solvents, fluxes, oils ( few exceptions ),Zero extractables
Freedom from Ageing, Fungus & water absorption.
PTFE SLEEVES APPLICATIONS
Defence & Military Electronics, Radars, Aircrafts and satellites
Communication / Control Equipments
Computer and Professional Electronics
As carriers of corrosive chemicals and ink capillaries for pen recorders
Insulating cover over electrical joints, more importantly for heater interconnections (due to high temperature proximity)
To cover leads coming out of transformer windings
Bushes cut to size, distillation column packing
In catheters and canulas for medical purpose
Air-conditioning / Refrigeration sealed unit interconnections
Automotive gear box control interconnections
SPECIFICATIONS
As per MIL-1-22129C USA Military Standards and JSS 54802 Indian Defense Standards, Type-Approved
by Indian Defense Authorities since 1991
100 % Inspected
Rated Break Down Voltages ( BDV ) as follows.
Wall Thickness BDV (AC RMS)
0.25 mm 11.5 KV
0.30 mm 14.6 KV
0.40 mm 16.3 KV
0.50 mm 17.0 KV