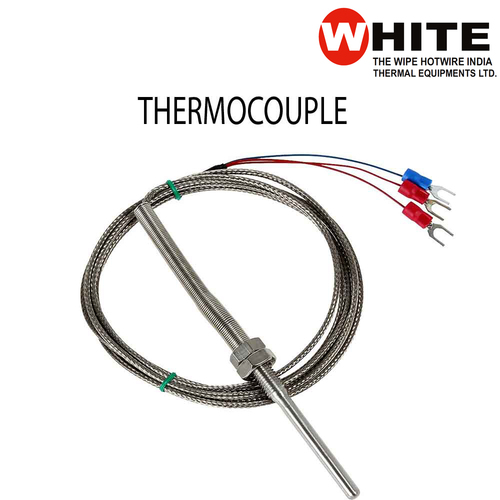 THERMOCOUPLE CABLES
Product Description
THERMOCOUPLE / COMPENSATING CABLES


Thermocouple Cables are same as Instrumentation Cables. They both are used for process temperature measurement. Thermocouple Cables are used in a wide variety of processes to sense temperature. Thermocouple Cables are used to connect control surfaces to the pyrometers, enabling accurate temperature indication and control.
Thermocouples and pyrometers are electrically conducted by the thermocouple extension/compensating cables. It is essential that the cabling uses the same conductive material as the thermocouple itself. This is to ensure similar thermo-electric (E.M.F) properties as that of the thermocouple used for sensing the temperature. If there is not a match in thermo-electric properties between the cable and the thermocoupling accurate temperature measurement will not be possible. That is why WHITE puts such stringent quality control measures into their design and manufacturing processes. WHITE makes all types of thermocouple extensions and compensating cables, in almost all type of insulations with reference to international standard like BS 1483, DIN 43710 & Indian standards IS 8784. Thermocouple cables can also be manufactured according to customer specifications for custom applications if none of our stock cable meets the desired criteria.

Different thermocouple types, for the reasons above, require different types of alloy wire combinations. Some of the most popular thermocouple wire and cable types are listed below, but custom cables can be configured to fit the customer's exact needs.

Type E (Chromel/Constantan)
Type J (Iron/Constantan)
Type K (Chromel/Alumel)
Type T (Copper/Constantan)
Thermocouple extension wire is used to extend the signal from a probe to the required instrumentation, such as controllers or recording devices. Multi pair thermocouple extension cables are preferred for these applications because their accuracy, stability in transmission integrity and the high build quality of thermocouple cables. Extension wires are designated by an 'X' aft the ANSI thermocouple type, such as those listed below:

APPLICATIONS

Carbon composite curing for aircraft, aerospace and others
Autoclaves, furnaces and ovens for use in countless applications
Heat treating and annealing in the production metals and metal parts of all types
Precise temperature measurement in pharmaceuticals, chemicals and petrochemicals
Cryogenics, HVAC, automotive, food processing plants, appliances, sensors.